Pricing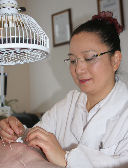 | | |
| --- | --- |
| Consultation | Free |
| Acupuncture | £ 35 / 55 minute session |
| Alopecia treatment | £ 40 / 55 minute session |
| External herbs | £ 5 / bag |
| Stress massage | £ 35 / 50 minute session |
| Earwax removal | £ 10 / 15 minute session |
| Payment method: Cash | |

Notes:
Some clients have successfully claimed for their acupuncture treatments at my clinic from healthcare insurance schemes such as Medicash and Simplyhealth.
Process for 'External herbs ' postal delivery
If you live a long distance from the Lotus Clinic and would like to try external herbs for skin conditions, you can contact me and purchase them by post.

Each bag of herbs costs £5. The fee for postage and packing for up to 10 bags is £7 and up to 20 bags is £10.
Payment should be by cheque made payable to Yanling Liu. Our preparation and delivery time is approximately 7 working days.
Please clearly state your name, address and the number of bags required. The postal address is below:
Lotus Clinic
Mayville
Bistre Avenue
Buckley
Flintshire
CH7 2JE