Treatments
Traditional Chinese Acupuncture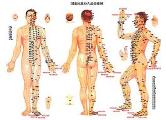 Acupuncture has been established in China for over 5000 years. The underlying principle is that there is a life energy flow, which consists of 14 meridians (similar to the concept of systems, e.g. digestive system, in western medicine), and each meridian conducts a certain physiological function. On each meridian, there are acu-points that regulate the meridian's energy. Stimulating acu-points with ultra-fine needles can motivate the meridian, enhance and adjust the body's physiological function, improve the life energy flow, activate the self-healing capacity and restore the natural balance of health; therefore the conditions can be relieved and cured.
Western medical research shows that acupuncture can trigger the body to produce endorphins, serotonin and other neurotransmitters, the bodyís natural pain-relieving and ďfeel-goodĒ chemicals. It can release muscle tension and spasm, break up adhesion, decrease the pressure on nerves, relieve pain and stiffness, relax the nervous system, soothe stress, ease tiredness, increase local microcirculation, assist the body cellís repair and regeneration, stimulate hormone production, improve the immune system and reduce inflammation and itching.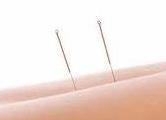 Hair-thin (0.2mm diameter), sterile, disposable needles are quickly inserted into acu-points. The commonly used acu-points are on the limbs and back. People may feel a slightly heavy or tingling sensation only for a second when the needles are initially stimulated and reach the life energy flow, but soon after, they feel comfortable, relaxed and relieved as the treatment continues.
Acupuncture is extremely safe, natural and has no side effects. It can be safely used alongside conventional medicine to reduce the dosage and side effects, or even cease the medication in many conditions.
You can expect to feel an improvement after just one session with my expert techniques. However you should continue to come once a week to build on the benefits from previous treatments. In general, a course of 7 sessions can give you very effective relief.

External Herbs
Chinese herbal medicine is one of the oldest systems of medicine in the world and external herbs, in particular, are remarkably effective for many skin conditions. They can assist the life energy flow, correct the bodyís imbalance, adjust the immune systemís response, repair damaged cells and relieve inflammation and itching.

Chinese Stress Massage

Chinese Stress Massage has beneficial effects for the mind and body. Using fingers, palms and a wide range of techniques, the procedure manipulates acu-points to increase vital energy flow. This helps with blood circulation, soothing nerves, easing tension and relieving stress, reducing fatigue, alleviating sleep disorders, enhancing emotional alertness, and creating a sense of relaxation, harmony and well-being.
Earwax Removal

A relaxing, effective and pain free procedure involves a hollow candlestick made of beeswax and fabric, placed into the ear and lit. It takes about 15 minutes to burn down to the flame-breaking ring where the candle is then removed and extinguished.
The gentle and safe method is a delicate treatment for helping to remove earwax in the inner ear canals, re-balance the ear pressure and improve hearing.